Programme Thematic Objectives

RSO 1.3 Enhancing sustainable growth and competitiveness of SMEs and job creation in SMEs, including by productive investments

More exports by SMEs.
As a result, companies achieve sales and contracts on target markets.

Indicative joint actions supported:
- Awareness raising of SMEs and relevant organisations in the targeted markets
- Product/service development of potentially exported products or services
- Developing joint offers of products and services for the targeted markets
- Process development and digitalisation of processes related to product/service development and new market entry
- Skills development and quality management of participating companies
- Market information and research for improved market entry plans
- Branding and marketing of products and services towards the targeted markets
- Sales support activities on target markets: visits to target markets and buyers visits to CB region, fairs, market expert services
- Experience exchange and learning as result of joint implementation

More new scaled-up growth companies.
As a result, companies achieve scaled-up status as, for example attract investment, develop new product or expand their team.

Indicative joint actions supported:
- Awareness raising of potential growth companies
- Product development to facilitate growth of the target group companies
- Process development and digitalisation of the target group companies
- Skills development for improved capacity of target group companies
- Market opportunities research to support scaling-up activities of supported companies
- Branding and marketing promoting the business development of target group companies
- Business model development and expansion of operations in targeted companies
- Experience exchange and learning as result of joint implementation

RSO 2.6 Circular economy

Joint circular economy solutions.
As a result, product and service cycles and chains are improved.

Indicative joint actions supported:
- Awareness raising of consumers and organisations with the potential to adapt circularity -Mapping the cross-border product cycles/chains in the project for more focused understanding of the needs to improve circularity
- Feasibility studies, plans and designs to further target the activities
- Trainings and skills development of targeted actors to better implement the principles of circular economy
- Joint product development prototyping activities and cross-border hackathons
- Development and implementation of methods and technologies to reduce the use of materials, reduce the waste and increase the reuse of materials
- Process developments and digitalisation of processes within circular economy
- Small scale investments to reduce the use of materials, waste and increase the reuse of materials
- New resource efficient solutions for improved circular economy
- Experience exchange and learning as result of joint implementation

RSO 2.7 Biodiversity and green infrastructure

Improved coastal and marine environment.
As a result, product and service cycles and chains are improved.

Indicative joint actions supported:
- Awareness raising activities for the project target groups on how to improve the state of the sea
- Information collection and surveys to support and specify concrete project activities to reduce the load
- Analysis, plans, drawings, and designs for the implementation for load-reducing activities
- Designing and adapting methods of load reduction from targeted sectors
- Planning and investing into digital solutions and processes that help to reduce the environmental load
- Joint practical pilot actions to reduce inflows of nutrients, toxins and hazardous substances
- Small scale investments to reduce inflows of nutrients, toxins and hazardous substances
- Experience exchange and learning as result of joint implementation

RSO 2.8 Urban mobility

Decreased CO2 emissions.
As a result, CO2 emissions are reduced from intermodal transport nodes and areas.

Indicative joint actions supported:
- Awareness raising of target groups on how to reduce the CO2 footprint
- Analysis and surveys to support and focus the chosen concrete project activities
- Plans, drawings, and designs for less CO2-intensive solutions in the targeted nodes or areas
- Planning and investing into digital solutions and processes to help to achieve carbon neutrality in the transport sector
- Small scale investments to practical activities leading to lower CO2 emissions from targeted nodes and areas
- Piloting new mobility solutions to promote less CO2 intensive transport
- Experience exchange activities as joint seminars, study visits, and trainings to support achieving CO2 reductions
RSO 4.1 Enhancing the effectiveness and inclusiveness of labour markets and access to quality employment through developing social infrastructure and promoting social economy

Improved employment opportunities.
As a result, people's competitiveness on labour market and entrepreneurship capabilities are improved and additional anti-discriminatory policies are applied by organisations.

Indicative joint actions supported:
- Awareness raising among the targeted less competitive groups and employers
- Designing and implementing trainings for the target groups to improve their skills and employment possibilities
- Incentives and services for employers (e.g., mentoring) to improve accessibility to jobs
- Networking and dialogues between counterparts of labour market (e.g., job search assistance)
- Tools for digital and online skills development and working
- Entrepreneurship-enhancing simulations and problem-solving exercises to promote entrepreneurship
- Mobility of participants to facilitate the demands of the joint labour market
- Experience exchange and learning as result of joint implementation
RSO 6.1 Enhance the institutional capacity of public authorities

Improved public services.
As a result, solutions are taken up or upscaled by organisations.

Indicative joint actions supported:
- Awareness raising for stakeholders and target groups to improve planning and implementation of joint policy and public services
- Trainings for target groups and networking (for example organisation of public events to support improving public services)
- Feasibility studies to support creation and improvement of joint public services in targeted service sectors
- Plans and designs (including strategic and land use planning) for new or aligned joint services and service infrastructure
- Improving participatory processes for developing services
- Improving public services and solutions by for example synchronising and harmonising them
- Creating new joint cross-border services or aligning existing services
- Digitalising joint public services (including data economy solutions) to improve usability
click for more info about the thematic objective and investment priorities
See the list of all projects at
Open calls for projects
Currently there are no job vacancies for this programme
Estonia

whole country

More details about Estonia

Finland

nuts 3 level

Etelä-Karjala
Helsinki-Uusimaa
Kanta-Häme
Kymenlaakso
Pirkanmaa
Päijät-Häme
Satakunta
Varsinais-Suomi
Åland
More details about Finland

Latvia

nuts 3 level

Kurzeme
Pierīga
Rīga
Vidzeme
Zemgale
More details about Latvia

Sweden

nuts 3 level

Gotlands län
Gävleborgs län
Stockholms län
Södermanlands län
Uppsala län
Västmanlands län
Örebro län
Östergötlands län
More details about Sweden
need translation with this page?
Description
The Central Baltic Programme 2021-2027 is a EU cross-border cooperation programme. Its scope is to finance high quality projects with European Regional Development Funds in Finland (including Åland), Estonia, Latvia and Sweden, that aim at solving common challenges together and across borders. The programme budget for 2021-2027 is EUR 118 million from the European Regional Development Fund (ERDF), which can be applied for in the calls.
Central Baltic Programme as such has already a long history. The programme has been existing in its current form from 2007 and cooperation links in the region are well established and developed. The region has formed into a functional cross-border cooperation area with joint interests, striving for cohesion.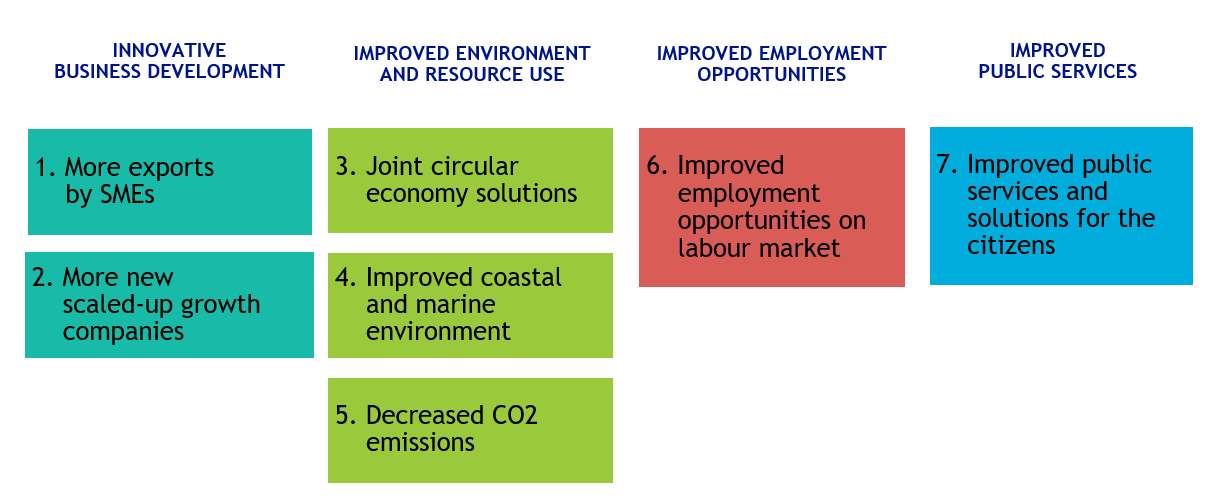 Contacts
c/o Regional Council of Southwest Finland

+358 40 550 8408

Visiting address: Ratapihankatu 36 (2nd floor), Turku, Finland
Mailing address: P.O. Box 273, 20101 Turku, Finland
https://centralbaltic.eu/contacts/#!

Get the up-to-date contact and information in Interreg Central Baltic at: